WELCOME ABOARD THE WEB HOME OF USS VIRGINIA BASE!!

The Little Base that

Can

Does -
This Sub Vet Base was named in honor of the
USS VIRGINIA (SSN-774)
FIRST OF A CLASS & LEADING THE WAY
Click here to learn more about our Base and our National Sub Vet Organization
1MC ANNOUNCEMENTS & WEBSITE INFO
1.
Next Base meeting will be Saturday December 9th
at Anna's Restaurant on Hull Street starting at noon.
See Monthly Meeting Tab for directions.
2.
Base officers will be elected and sworn in at this meeting; please attend.
3. Emails for USSVI and Base members whose dues are coming due have be sent out.
4.Because the monthly meetings' attendance is not at its pre-covid level (20 or more members) the buffet has been discontinued. (For additional info please see the "Meeting" page.)
5
.For individuals that will not be able to attend the monthly base meeting, we will stream the meeting on Zoom.
-----------------------------------------------------

-----------------------------------------------------
POINT OF CONTACT (POC)
As of August 21, 2020 Base Commander John Williams has assumed POC duties.
We're going to ask all members to start using the link below even though John should be receiving USSVI POC email, which he will then forward to all Base members. Your cooperation is appreciated!
Review the listing of message subjects and the first line of each message as provided in the table.

I

f you see anything you want to read further, you'll have to go to the USSVI Home Page, Login and go back to SubVet News to read the full message.

Instructions for getting a login and password are on the USSVI website page that comes up after clicking on "Member Login".

Let the Webmaster at johnrwilliams1@comcast.net know if you have any trouble doing this instead of having all of the POC messages emailed to you.This new procedure will be a great help to John, so thanks for trying!
**********************************************
The Base normally meets on the SECOND SATURDAY OF EVERY MONTH

at Anna's Restaurant & Pizzeria in Midlothian, Virginia beginning at

Noon

in the private Dinning Room. Once everyone has finished eating (but not later than 1:15pm) we dive the boat to begin our meeting.




Our meetings are usually over by 2:30pm - or 3:00pm at the latest.

Click here

to visit our Monthly Meeting page for more information about our meeting venue and meeting routine.



Click here

to view our Base Calendar for future scheduled meetings, birthdays, lost boat dates and o

ther Base activities.




Review the left-side navigation buttons and their fly-outs for more information about USS Virginia Base, as well as our namesake boat the USS Virginia (SSN-774).

As of November, 2019 this website is primarily 'static' and will seldom be updated. However, when it is updated you'll be able to see an "Edited" date above the navigation buttons to indicate when each page may have been last updated.
USS Virginia (SSN-774) on Alpha Sea Trial, July 2004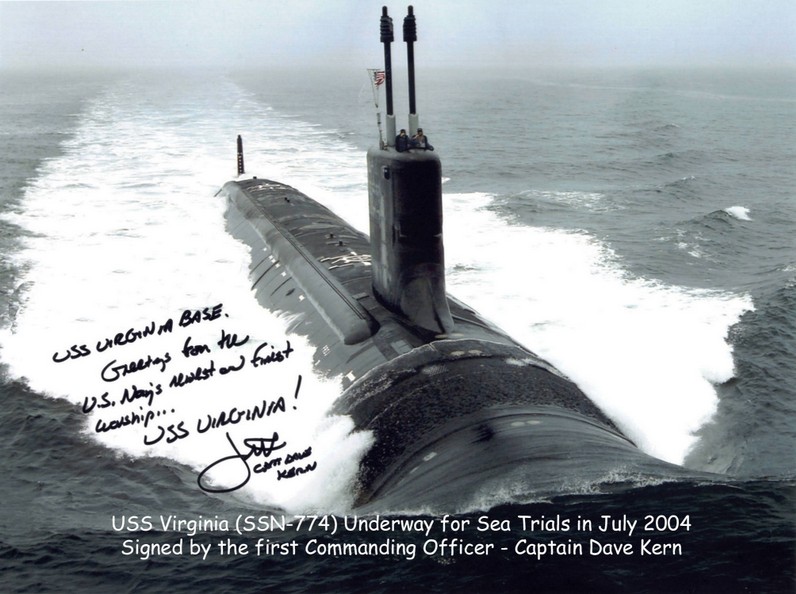 SERVING SUBMARINERS IN T

HE

RICHMOND AND CENTRAL VIRGINIA AREA



WHO ARE WE?


This website is intended to be an information source for all USS Virginia Base submarine veteran members, their families, friends and others interested in submarines - along with USS Virginia (SSN-774) crew, family and friends. Our Base was chartered and named in honor of the USS Virginia (SSN-774) and all of our members are proud to be associated with those who built and serve on this first boat in a new class of nuclear powered, fast attack submarines.

(Hover your cursor on the "USS Virginia" left-side navigation button with its resulting fly-outs to learn more about Virginia and our Base association with this great boat)

.



The USSVI Creed is "To perpetuate the memory of our shipmates who gave their lives in the pursuit of their duties while serving their country. That their dedication, deeds and supreme sacrifice be a constant source of motivation toward greater accomplishments. Pledge loyalty and patriotism to the United States of America and its Constitution."
That's our CREED above, but it's not who we are. We are United States Submarine Sailors! We were, and are, members of an elite fighting force of the United States Navy. We are all QUALIFIED IN SUBMARINES.
Included are submariners from the very early boats: S, R or earlier: WWII boats; postwar GUPPY boats and Boomer and Fast Attack submariners. Anyone designated as "Qualified in Submarines" - from E2 to 4 Stars - retired, short timer, or active duty - it makes no difference and are all eligible and invited to join with us.
YOU'RE INVITED TO JOIN US
If you are "Qualified in Submarines" we want you to join USSVI and, if you live anywhere within the Richmond or central Virginia area, we want you to also join our USS Virginia Base. USSVI has 150+ local Bases (chapters) from Pearl Harbor, Hawaii to Portsmouth, New Hampshire and two Internet bases. Members are from every state in the Union. In addition to the local Base, district and regional meetings throughout the year, USSVI also holds a National Convention in a different city every year.
If you want to learn submarine history from the people who wrote it, tell or hear sea stories from Pre-WWII, WWII, Korea, Viet Nam, Cold War or right now - USSVI and USS Virginia Base are where you want to be. If you want to find shipmates, plan or attend a boat reunion, eat, drink, or just share a common bond that all undersea warriors have that never goes away - USSVI and USS Virginia Base fit the bill. If you want to see if you served with or know any of our members, click here to look at our Base Roster. Click here or on the "Application Info" navigation button on the left side if you want to begin your application process.
THEN WHAT?
Effective August 8th 2015 we now hold all monthly meetings on the Second Saturday of every month where we enjoy a private buffet lunch beginning at Noon. Immediately after the social lunch period we dive the boat and start our meetings at 1330. Our ladies are always invited to join us for lunch but they usually prefer to go ashore just before we dive to start the meeting, to a separate part of the restaurant for a kaffeeklatsch. That makes it easier for us bubbleheads to tell sea stories without embarrassing them. Click here for our meeting location and time.
We may also schedule unique events and special presentations from time to time, along with a GREAT Sub Vet annual picnic every Fall. Spouses and families are always invited to attend the monthly happy hour/dinner, the annual picnic and special events whenever possible. Click here to learn more about our Annual Picnic and click here to learn about our annual Field Day of the Past project. Still have questions? Click here to send us a message.
IF YOU ARE 'QUALIFIED IN SUBMARINES' YOU ARE INVITED TO JOIN WITH YOUR BROTHERS OF THE 'PHIN TO CELEBRATE EVERYTHING THAT IS UNIQUE AND PRAISEWORTHY ABOUT OUR SPECIAL UNDERSEA WARRIOR SERVICE!!